Student paints mural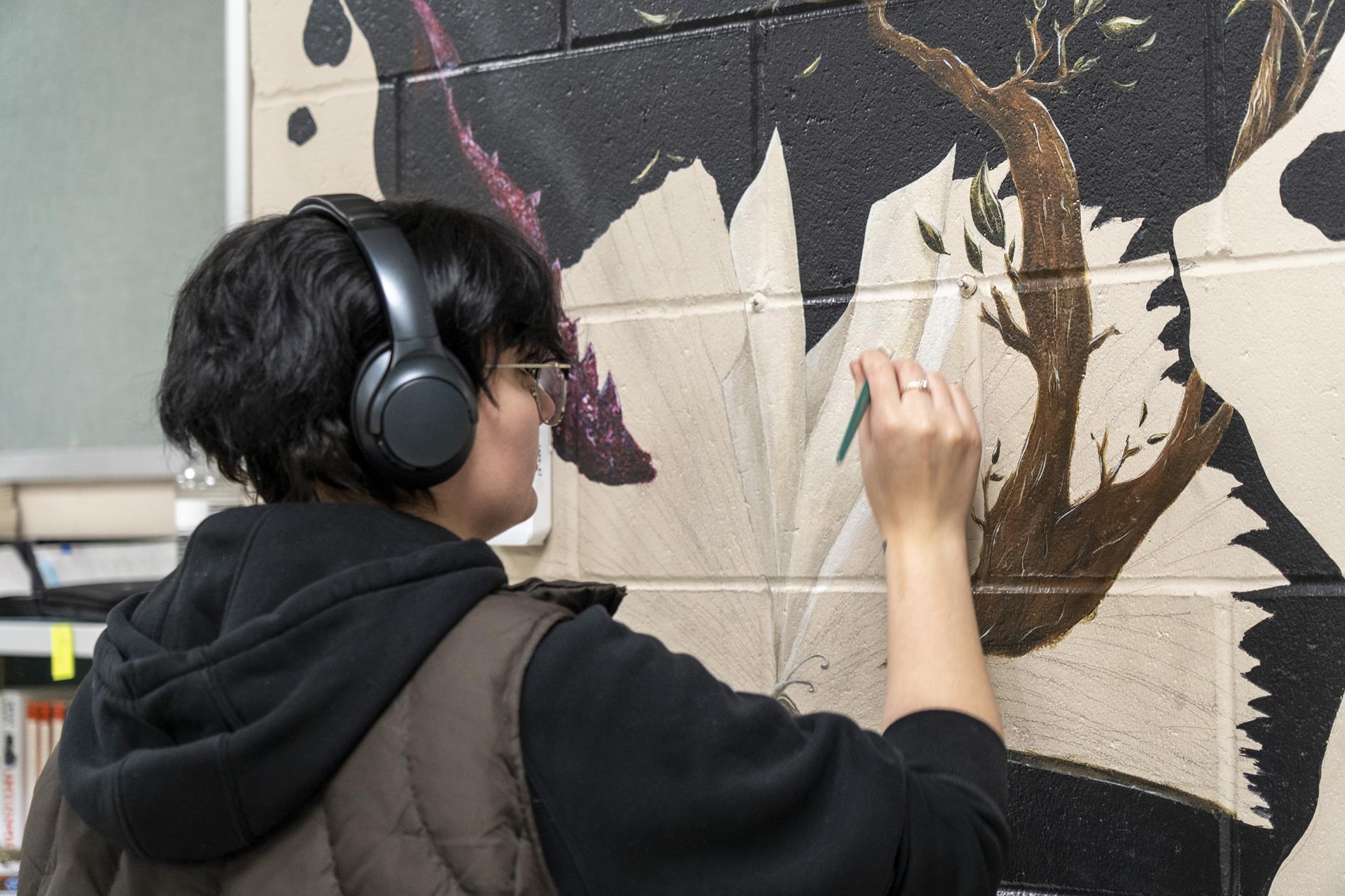 ---
NYM Senior Designs, Paints Mural for English Teacher
For the last several weeks, NY Mills Senior Kiley Meech has been painting a mural in one of the High School English classrooms.
As part of her independent painting project, Kiley worked with Mrs. Nikki. Braaten to design and paint a mural.
"Kiley has been amazing to work with," said Mrs. Braaten. "I gave her a few pictures of ideas that I had and talked them through with her, and by the following day, she'd drawn the sketch that became the mural."
"I think the most difficult thing for me personally is the designing part. Once I have that situated, then I am able to start painting," said Kiley. " I guess the color selection can be difficult as well since I like to have everything match."
With a general idea of a "magical open book" theme, Kiley wanted to incorporate both the reading and writing classes that Mrs. Braaten teaches.
"The book is meant for her English classes, while the writing pen with ink, dragon tail, tree, and key bookmark, is meant for her creative writing class," explained Kiley. "My favorite details would probably be the tree and the pen. I am really fond of small details, and so I try to incorporate them in as much as possible!"
Mrs. Braaten said, "Every day she adds to it, and I am amazed at how beautiful it is. It all looks so realistic. She is very talented and creative, and I can't wait to have a permanent piece of her artwork for my classroom!"
"I love to paint murals," said Kiley. " I honestly wish I could do it more often, but it's hard when people don't know you that well."
New York Mills upperclassmen have the opportunity to take an independent art class with Tammy Olson. They need to take a majority of the offered visual art classes and excel in them.
"I have probably taken more art classes than the majority of the students. If my count is correct, I have taken about 5-6," said Kiley. "I wish I can take more, but unfortunately, that's not how it works. I wanted to have art classes for seven hours a day, but sadly, I can't."
The mural for Mrs. Braaten completes the community service portion of the class. As part of the class, she will also participate in the Regional Art Show this spring.