Mr. Radniecki named AD of the Year!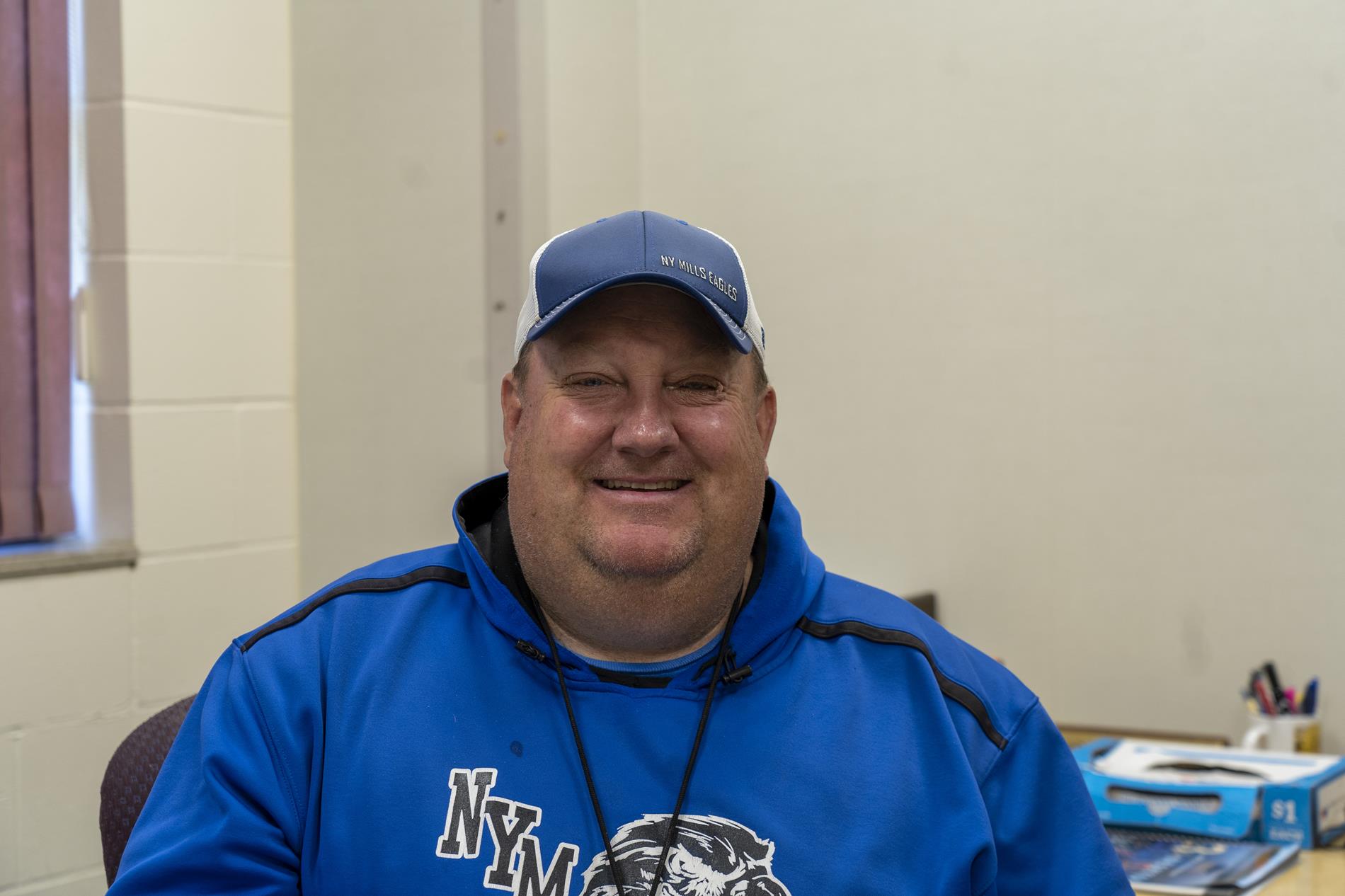 ---
New York Mills Public School Athletic Director Matt Radniecki is the Region 6 Athletic Director of the Year!
Radniecki, who is in his 12th year as NYM Athletic Director, will be formally recognized as the Region 6 AD of the Year during the Minnesota Athletic Director Conference in March. He was chosen by the other Region 6 Athletic Directors to be this year's regional representative.
The athletic directors in each region choose a representative. Radniecki says being chosen by peers sheds light on his key philosophy behind every good athletic director–strong relationships.
"Part of being an AD, and being successful at being an AD, and when I leave this job I will tell the person that comes in here next, is that you really need to have good relations with other ADs," said Radniecki, during a recent interview.
"We share information back and forth," said Radniecki. "If we come up with something (like the robots that painted our football field) we share it with the other ADs."
It's not just AD relationships, though. Radniecki said he appreciates how the NY Mills coaches and administrators work together. Especially if there are strong ideas about issues, Radniecki said that in his experience everyone makes the extra effort to remain respectful.
It's this respect that remains Radniecki's driving force in fulfilling his other athletic duties in a timely manner. Whether it's responding to a parent or coach question or working on the activity schedule, Radniecki said he endeavors to be proactive instead of reactive. The relatively new supply chain issue that has been causing backlogs on orders is one example of how Radniecki became proactive. To help prevent issues this spring, Radniecki has already ordered the softballs and baseballs that are needed for the spring season. There have been some districts that haven't ever been able to receive their footballs for this fall.
Besides the day-to-day duties, Radniecki also offers input on anything that correlates with sports and activities in the community. This past summer, Radniecki was an active partner in the work done on the new gym floors, the updated scoreboards, and the banner project.

"The banner project has been the most extensive project I have ever done," said Radniecki.
Although the floors and scoreboards are completed, the banner project is ongoing. The plan is to replace the old banners in the sports center with a single banner for each sport. The current state championship banners will still be on display, but with remaining banners will be replaced with new, uniform banners.
But compiling a complete list of championships for each sport has been a challenge, Radniecki explained. While the trophy cases have most of the information they need, he is taking the time to locate other historical references to prevent an athletic milestone from being inadvertently forgotten.
Although the banner project has been extensive and time-consuming, Radniecki said that the Covid restrictions were by far the most challenging time of his athletic director career. The face masks, playing with limited spectators, the exposure quarantines, and removing games from the season, were all stressful aspects of his job. It's a time period he hopes to never have to repeat.
Even in challenging times, Radniecki said his primary role has always remained the same: "To foster a positive, friendly, safe environment for our student athletes to be able to participate in activities."
From physicals to officials, there are many aspects that must be in place before students can play. Since Radniecki can name several examples of skills he gained while playing high school sports, he believes in the benefits of today's students being involved in school activities.
Two examples of skills Radniecki learned from his basketball coach are the value of relationships and the importance of asking others for help. Both of these skills he utilized throughout his life.
Skills like these have helped him form great relationships with others–which Radniecki says is the key to a good athletic director.
Congratulations, Matt Radniecki!